Non capita spesso di vedere le testate di oltreoceano parlare della scena snowboard italiana, cogliamo quindi la palla al balzo per farvi sapere che qualche giorno fa, nientepocodimenoche Snowboardermagazine.com (e non è stata l'unico sito estero, lo hanno fatto anche Methodmag e snowboarding.com, tanto per dirne un paio…) ha messo online la full part di Gian Marco Maiocco, presa dal video "Shadow", prodotto da Different Vision Production.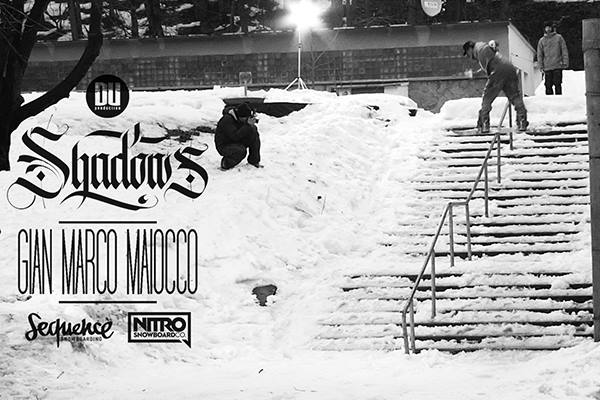 Il titolo "Shadow" non è stato scelto a caso, ma lo spiegano in modo breve (ma efficace) nella descrizione del video:
"SHADOWS. Why? In Italy as in a lot of country snowboarding is not the most popular sport. Compared to other disciplines and athletes we are considered as shadows. People who work with passion behind the main sports scene.The DVP Crew with this full length movie wants to be the starting point to release these shadows in the light.
Huge thanks and best wishes to all of you – riders, filmers, photographers, artists, associates, partners, friends and everyone who in any way contributed in the making."
Ombre? Perchè? In Italia, come in molte aòtre nazioni, lo snowboard non è lo sport più popolare. Al confronto di altre discipline ed atleti siamo considerati alla stregua di ombre. Persone che lavorano con passione dietro la scena degli sport principali. La Crew DVP con questo video completo vuole inizare a fare luce su queste ombre.
Grazie e in bocca al lupo a tutti voi – riders, filmers, fotografi, artisti, collaboratori, partners, amici e tutti coloro che in un modo o nell'altro hanno contribuito alla realizzazione.

Ma ora basta con i sentimentalismi e sparatevi la parte di Gian Marco:
Ma non vogliamo fermarci qui! E' disopnibile online l'intero video, che vede come protagonisti Nicolò Pezzato, Tato Chiala, Gianmarco Maiocco, Devid De Palma, Federico Iovanovich, Tommaso Lanza, Ziga Rakovec, Nejc Ferjan, Nejc Pucko e tanti altri. "Shadow" è stato prodotto grazie al supporto di MONSTER, DRAKE, NORTHWAVE, SPY, SKULLCANDY, ELM, FLUX, ELAN, K2 SNOWBOARDING, ROUGH SNOWBOARDS, DOORS, NITRO, GARBAGE, ECLECTIK ed è stato girato da Marco Morandi (che ne ha curato anche l'editing), Matteo Caldara e Massimo Maggi.
Click play and support italian snowboarding!
SHADOWS FULL MOVIE from DVP on Vimeo.
FOLLOW DVP
facebook.com/differentvisionproduction
Instagram @differentvisionproduction
Twitter @DvpProduction